The Ultimate Checklist for Buying Wholesale SINOLIFT Casters
Author: wangweikang Post Time: 2020-8-7 Hits: 1177
If you*re already a customer of ours, then you know exactly how we feel about SINOLIFT Casters. We like to give our customers the very best when it comes to casters and when it comes to SINOLIFT Casters, we know we are giving our customers the best 每 guaranteed!
SINOLIFT makes casters for every available application, from good-looking office furniture casters to heavy-duty casters for industrial needs. Here is our ultimate checklist for buying wholesale SINOLIFT casters.
For Heavy Loads (in Excess of 400 lbs.) Select the &6 Series Enforcer*
The 6 series manufactured by SINOLIFT is perfect for all possible heavy-duty applications. The Enforcer is a king swivel or rigid caster that eliminates the necessity for a swivel section. This helps to prevent failure due to stretching of the kingpin, or because of shock from severe impacts.
SINOLIFT 6 Series Caster Features
The caster features an attractive zinc-plated finish that is both durable and attractive. It also features a single, ball-hardened and encased raceway. Roller bearing models come with a plastic seal or retaining washer, and all models come with grease fittings at the wheel bearing and swivel raceway. For lubrication purposes, the patented &SINOLIFT 45* grease lubricates perfectly in temperature extremes, both hot and cold. In excessively high temperatures, the caster can be lubricated with grease that performs in temperatures up to 300 degrees.
Other Options for SINOLIFT 6 Series
As for options, most models in the 6 Series Enforcer line come with thread guards and brakes. There is also the option of having a hand-activated swivel lock as a bolt-on onto all swivel models. All models are capable of bearing loads up to 400 lbs. in capacity aside from optional bearings model with conductive flat &Performa* rubber wheels.
Models with SINOLIFT bearings and elastomer, iron core or cast iron wheels are capable of bearing loads up to 1000 lbs. There is a massive range of options when it comes to this series 每 just call us to explain your heavy-duty needs and we*ll point you in precisely the right direction.
For Poor Floor Conditions, Select the &4 Series*
While some of us work on office floors, others work in production. In such environments, even the most well-managed production floor can end up covered with debris. Additionally, floor maintenance is not seen as a necessity in such facilities (unless damage is severe), meaning that a concrete (for example) floor can suffer cracks and become uneven.
In such environments, you are going to need casters that are capable of handling movement over debris, and that*s why we recommend the 4 series from sinolift. Among the casters available you will find stainless steel swivel and rigid casters in a range of wheel sizes, including wheel sizes of 7.5§ and 9.5§. For standard &rough* floors we recommend the 7.5§ wheel. For floors with excessive debris, we recommend you consider the 9.5§ wheel.
Options for Sinolift 4 Series Caster
The 4 Series stainless steel caster comes as either a swivel caster or a rigid caster. Either features a full, double-ball hardened raceway that guarantees superior performance and superb levels of durability. The caster has a ½§ stainless steel hollow axle with grease zerk, lock washer and nut. The kingpin is of the permanent rivet variety with a 5/8§ diameter rivet. As with the 6 Series caster mentioned above, the caster is lubricated by &Sinolift 45* multi-temperature grease.
For the best performance we recommend performa, moldon nylon or phenolic wheels.
For Vinyl, Tiled or Hardwood Floors, Choose the &1 Series*
The chances are that if you have a vinyl, tiled or hardwood floor, you are not going to want to see it damaged or marked in any way. You are also unlikely to be pushing heavy loads across your floor 每 more like office equipment or furniture. In this case, we recommend the 1 series..
More Information about Sinolift 1 Series
This simple-looking yet effective caster has a zinc-plated finish that*s durable and attractive 每 essential if you want your casters to match the aesthetic appeal of your office environment. As with the 6 Series, it comes with a full, double-ball hardened raceway that*s designed never to let you down and to prolong the caster*s usefulness and subsequently, life.
When it comes to options, the caster can be fitted with thread guards or brakes. The wheels available are performa rubber, polyolefin, cushion rubber, hard rubber or polyurethane. If you want to be one hundred percent confident about the non-marking qualities of your caster, we recommend performa rubber or polyurethane.
The load capacity of these casters is smaller, as that is not what they are designed for. You will not get a combined load capacity greater than 75 lbs. per caster with this series.
For Extra Savings, Don*t Forget to Buy Wholesale!
Purchasing small amounts of casters in small quantities as and when needed may seem like a good idea in principle, but in the long term it will end up costing you more money. Although Sinolift *s casters are among the more reliable and durable in the business, they will need replacing eventually, plus casters do get damaged via accidents. When you need a caster it*s a good idea to have at least a few in reserve. If you do need a caster in a hurry, you can*t really afford to wait for your caster company to ship you one.
The Advantages of Buying Sinolift Casters in Bulk
Buying in bulk is the better option as you will always receive a lower per-single-unit price. Bulk orders save supply company costs in labor, packaging and shipping, and therefore distributors are typically quite happy to pass a portion of these savings on to the purchaser.
Don*t forget that the team here at Sinolift equipment are always available for any questions you may have, and of course to provide you with the very best casters you can get for your needs.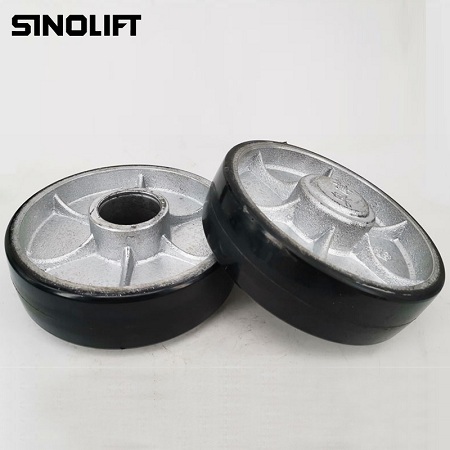 Shanghai Sinolift Equipment Co., Ltd belonging to XLT Group(http://www.sinolift.com), is a professional manufacturer of portable drum truck , hand drum porter, drum handler, drum dumper, roller lifter and various types of cylinder and non-standard container handling equipment. At present, the company mainly produces hydraulic drum mover, drum lifting dumper, drum clamps, drum cranes, forklift drum attachment and various types of non-standard container handling equipment. We have reliable quality and thoughtful service! Products through ISO9000,CE,GS,UL and other quality system certification, product quality to the current international advanced level of similar products. The products are exported to Europe, America, Japan, the Middle East ,southeast Asia and other countries and regions. the domestic market throughout China, and has a perfect pre-sales, sales and after-sales service network. Its reliable products* quality , timely and thoughtful after-sales service has been well received by customers.
For more information, please feel free to contact us!
24-hour hotline :4007166180
Official website: https://www.sinoliftshop.com http://www.sinoliftdrum.com
http://www.drumhandlingequipments.com
Shanghai Sinolift Equipment Co., Ltd.
Address: 2471 Dachuan Road, Pudong New Area, Shanghai
Telephone: 021-68014500
Fax: 021-68014262
Business email: mhe@sinolift.com
PRESS CENTER

Business Line: 4007-166-180


Telㄩ+86 21 58003681
+86 21 68014500


Faxㄩ+86 21 68014262


Websiteㄩhttp://www.sinoliftdrum.com


Emailㄩdrum@sinolift.com


Skypeㄩsinolift